Honda presented its updates to existing models at its press conference on November 10, 2020 and our favorite "SUV" scooter is one of the updated models !
And we have to admit that we really like this new XADV !!
Let's take a look at what's new between XADV 2021 vs 2020 :
the engine now meets Euro5 standards and gains 3 kw (approximately 4 hp) and 600 rpm before breaker
calibration of the gearbox shorter on the first 3 gears to gain in dynamism and longer on the last 3 gears to gain in consumption
DCT box whose behavior adapts to the piloting mode
the arrival of the electronic accelerator "TBW - Throttle By Wire" and with it the 5 piloting modes: STANDARD, RAIN, GRAVEL, SPORT and USER (configurable by the user)
improved traction control with possible adjustment to 3 sensitivity levels
weight reduced by 2.4 kg (mainly frame and engine optimization)
shape of the saddle contour modified to improve the saddle height (the height remains at 820mm but the legs should be less apart so it is easier to have your feet flat)
new 5 inch color TFT speedometer with Honda voice control system
new LED lights with daytime running light that adjusts to the ambient light
automatic turn signal stop
In terms of accessories, we will note the arrival of the original side cases, handguard extensions (it must look like what we find on the standard 2020 Africa Twin).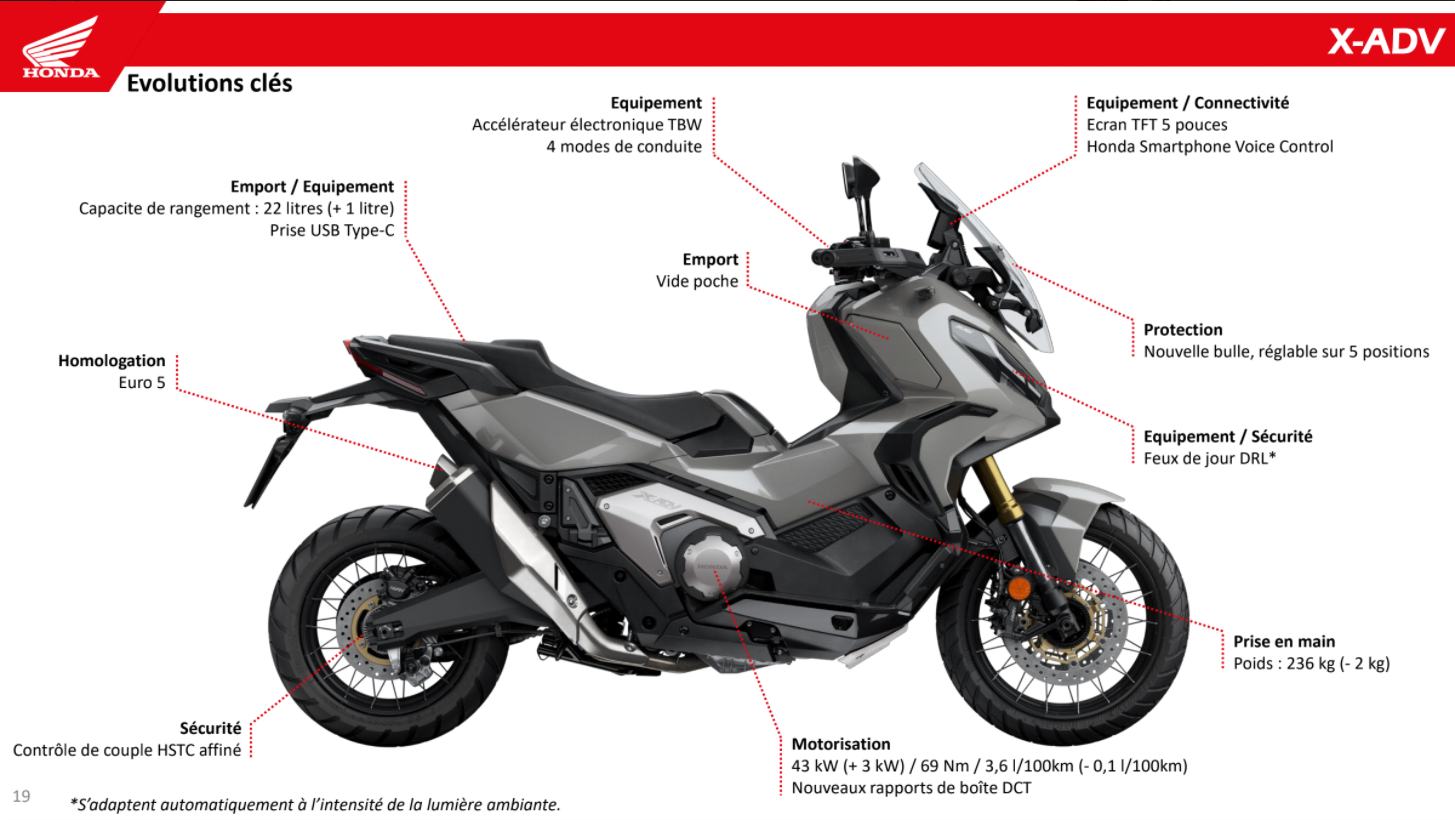 Four colors will be available for this first year : red, black and 2 tones of grey.
At xadvshop.com, this new version will of course be taken into account with the opening of a specific category for this new bike. Exhausts, maintenance consumables, windshields, comfort accessories, luggage will be there. This update of the X-ADV will also be the occasion for an update of the site with many surprises and novelties over the first weeks of 2021! We will be delighted to share this new adventure with you!